How to Get Outside This Summer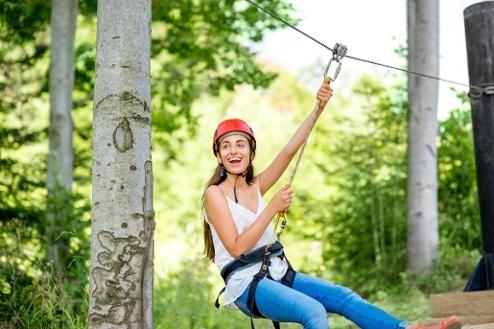 There is nothing worse than summer boredom. We're all so used to routine and schedules that when we're left to entertain ourselves, it can be overwhelming. The good news is that the
AHCC Research team
is here to help. We've experienced the summer boredom blues and we've made a vow to put an end to it this summer. Our main focus is on getting you and your family outdoors this summer.
We've put together a list of our favorite ways to beat summer boredom. As an added bonus to our favorite summer activities you'll get
immune-boosting benefits
from the sun, delicious food, and stress-relieving activities. Visit the
AHCC Research Facebook page
and tell us how you plan to get outside this summer and reap the immune-boosting benefits of fresh air and activity.
Visit Local Farmer's Markets
There is nothing quite as delicious as eating local fruits, vegetables, jams, sauces, cheese, and baked goods. Break out of your grocery store routine and create a new summer habit of visiting your local farmer's market. Take the time to talk to the growers, bakers, sellers, and makers. You'll learn so much about the goods being sold and how best to enjoy them.
Bring the entire family and plan to spend a relaxing morning walking, shopping, and nibbling. Hint: some farmer's markets feature ready-to-eat food vendors, so be ready to enjoy a lunch or late morning snack.
From fruit orchards to berry farms to vegetable patches – you can get back to nature and pick your own your fresh fruits and vegetables. There is nothing quite like picking your own apple and biting into it. Plan for a day out and pack water, snacks, headwear, sunscreen, bug repellant, and be ready to enjoy the experience of picking your own fresh produce.
Get creative and give your kids (and yourself) incentive to fill your buckets full of apples, peaches, grapes, strawberries, blueberries, and more. How about choosing a new fruit recipe and using your fresh picked fruit as the primary ingredient? Or get ready to freeze your summer bounty so you have lots of healthy goodness in the winter? Be ready for a rainy day and make jam, syrups, and pickled vegetables.
There is nothing quite like camping to ease stress and allow you to
disconnect from the day-to-day
. Choose a camping style that make sense for you: rather than staying in a tent, you might want to try glamping or renting a yurt or cabin.
Plan a weekend away with friends and family and enjoy getting back to nature together. Get ready for barbecues, s'mores, swimming, hiking, and lounging with a good book. We suggest leaving the smartphones at home or at least indoors – disconnect and truly enjoy the freedom that comes with it.
Hike, Zip Line, Bike, Paddle, Float
Summer is the ideal time to get outside and be active. Make this the summer that you try a new activity every weekend. Yes, that's a big goal, but imagine the fun you'll have. One of the AHCC Research team members has decided to try out the local wakeboard park this summer. What are you going to do?
Look for local clubs or groups that make it easier to try a new activity such as hiking, zip lining, mountain biking, kayaking, or rafting. You'll meet new people and who knows, you just might discover your new favorite summer hobby.
Visit Local and National Parks
Wherever you live, you've got access to amazing local, state, and national parks. Whether it's the local park on your street or the
U.S National Park system
– each of these offers something unique and vital. All too often we spend our time surrounded by concrete and noise. Find a way to escape for an afternoon, weekend, or longer at that park you've always wanted to visit.
The great thing about the park system in the United States is that each park offers something different. Hiking, mountain biking, camping, rafting, kayaking, or star gazing ! Hint: there is nothing quite like a picnic lunch, a blanket, and a good book – pack these up and visit your local park for a few hours of relaxation. Your kids and dog will enjoy the fresh air and new experience as well.
There is something about summer that says festival-season. Whether you're a music fan, avid reader, dedicated foodie, art fan, or fitness enthusiast – there is a summer festival for you. Check out the summer festival schedule in your local community and do something new.
Make this the summer you broaden your horizons with new experiences, people, and interests. Summer festivals offer something for everyone and give you an easy and affordable way to enjoy the best of being outside in the summer. Tell us about your summer festival favorites on
our Facebook page
Above all else, we want you to have fun this summer. Not every day is going to be amazing but make a real effort to get outside and make the most of your summer. It doesn't have to be something huge. Walking to the corner store in the evening for a Popsicle on a super-hot day or explore your community's bike paths are great examples of how to benefit from the fresh air. Let's put an end to the summer boredom blues and set a new summertime trend of fun, fresh air, immune-system health, and smiles.