Your U.S. National Parks Bucket List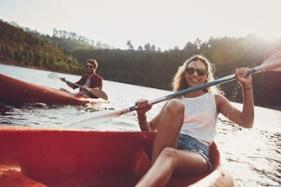 Although fall is right around the corner, that doesn't mean the outdoor summer fun has to come to a screeching halt. One of the best ways to truly enjoy the beautiful change in seasons is to get out in nature. There are numerous studies, books, and articles about the benefits of being surrounded by trees, wildlife, and plants. Along with the healthful rewards of being away from our digital devices, the noise of traffic and the constant need to be doing something, being in nature
stimulates our immune system
and gives our brains a chance to relax. This is why we want you out in nature. So many of us take advantage of our local parks and greenspaces, but what about the 59 national parks that we have in the United States. When was the last time you visited one of our national parks? If you're like a lot of us at AHCC Research, it's been a while since you visited these diverse wild spaces. To help you out, we've done some research (and personal trip planning) and put together this overview of our national parks, including some of the many highlights, what to expect, and included links to help you learn more about these incredible wild spaces.
Exploring our Diverse National Parks
Hiking. Canoeing. Kayaking. Rafting. Camping. Historical sites. Complete solitude. Bird watching. Moose sightings. Snorkeling. Scuba diving. Rock climbing. Spelunking. Cook-outs. Whatever you want to do – you can do it in our national parks.
North Cascades National Park: over 300 glaciers, waterfalls, and brilliant blue lakes are waiting for you in this Washington park. A short three-hour drive from Seattle, you'll be rewarded with hiking, rock climbing, camping, and the soothing sounds of the waterfalls.
Channel Islands National Park: a short boat ride will launch you onto this park made up of five of the Channel islands. If you're looking for an untouched and isolated area then you've got it with this stunning park. Ideal for snorkelers, scuba divers, whale watchers, nature lovers, hikers, and campers – you'll want to make a trip to California (skip the big cities) and have a trip of your lifetime.
Great Basin National Park: experiencing the desert is something that so many of us who live in cities have never done. Go visit this Nevada park where you can discover the desert, climb a 13,000-foot mountain and explore caves. You'll want to visit the Lehman Caves which are known for their unique ecosystem.
We've only managed to feature seven of the 59 national parks we have in the United States… These seven parks are some of our less-visited parks and are as equaling stunning as the most popular parks including
Yosemite
,
Yellowstone
, an the
Grand Canyon
.
Learning More about U.S. National Parks
As we mentioned earlier, whatever you want, you can find it in one of our national parks. To help you learn more and do some trip planning, use the following links:
National Park Service: get all the information you need about trip planning, events, featured parks, and answers to all your questions.
Top 10 Most Visited National Parks: National Geographic knows our parks and has put together a great look at the most popular parks in the United States.
America's 20 best national parks: our national parks are real tourist destinations – use this guide from the Telegraph as a great way to plan your next vacation or weekend get-away.
Inspired? So are we! Explore this great land of ours, get back to nature, disconnect from your digital devices,
reap the health benefits
of the trees, water, glaciers, wildlife and amazing ecosystems. Perhaps you have a favorite park or have even visited all 59 of the parks? Tell us about your top park visit memories and highlights–
share with us on our Facebook page
.