Oh Nature – Thank You for Helping Us Feel So Good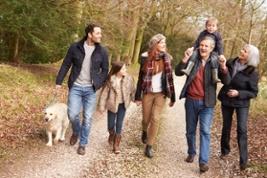 We've said it before and we'll say it again: there are so many benefits to being all-natural. Of course, this applies directly to
AHCC
, but did you know it also applies to the great outdoors and nature? Study after study has highlighted the powerful benefits that being outdoors can have on our health and well-being.
Our team here at AHCC Research are a bunch of outdoor-loving enthusiasts with some of us getting out for weekend hikes, others out riding our mountain bikes on the trails, or we also have diehard campers who look for any excuse to put up the tent and relax under the stars. We want you to experience the same health highs that we get from being outdoors, so we've put together a list of our top reasons to get outside. Here's the great thing about getting outside – every little bit counts. You don't need to be in a forest disconnected from the world to reap the rewards of fresh air and green space. Just being in your local park and going for a stroll can go a long way in helping you to fortify your health and wellness. After all, you're
taking AHCC to help strengthen your immune system
, so why not take things even further and let Mother Nature work her magic on your immunity, stress levels, and overall wellness?
Why We Want You to Get Outside
Okay, you had to know this would be our number one reason for getting outdoors. You know how vital it is to have a
strong immune system
, and being outside is one of the best and easiest ways you can help to strengthen it. Just as AHCC has been shown to improve your immune system,
studies have shown that being surrounded by trees can help you fight off colds, the flu, and other illnesses. In fact, some studies have shown changes in cellular activity that can be linked to trees and nature having potential anti-cancer effects on your immune system.
There is something about the fresh air that does so much good to our mental health. The simple act of walking in nature can help lower anxiety, help to alleviate depression, and reduce your stress levels. So, as long as you're out in some kind of green space, you'll feel better in no time. Whether this is an hour-long walk in the woods or being in your local park reading a book – the simple act of being out and about in green space can improve your mood,
emotional well-being, and even help to strengthen your self-esteem. For many of us at AHCC Research, we like to get out for a lunchtime walk in a nearby park – being away from the office (even for 30 minutes) helps us refresh, destress, and get motivated for the afternoon.
It turns out that city and urban living can be hard on the body, contributing to increased levels of inflammation in our body. And as you know,
inflammation is linked to a range of illnesses
and diseases including cancer, arthritis, auto-immune disease, and depression.
If just being outdoors can help reduce the amount of inflammation we experience, it's hard to suggest that we don't have time for it. A recent study analyzed the
level of inflammation
in students who spent time in the woods and nature compared to those who did not leave the city – the nature students had lower levels of inflammation.
Even the simple act of walking in the woods or on a path in your park is exercise. The more you do, the better you'll feel. Your brain relaxes and the worries of the day evaporate, your muscles get a wake-up, and the endorphins you feel from the simple act of movement are invigorating and stimulating.
So, are you convinced yet? Yes, we at AHCC Research are fully invested in our health, but we're also fully invested in your health as well. We want you to know and feel what we do after being outside. Nature is out there and it's waiting for you. The birds are chirping, the squirrels are scurrying, and the flowers are blooming. It's actually so much better than virtual reality and YouTube – nature and the great outdoors is the real deal. (Expert Tip: if you go camping or on a long hike, you've got a reason to eat s'mores and marshmallows…) It doesn't take a lot to do so much good for your body and mind – 15 minutes a day is better than not doing it at all – so when you feel like you're too busy or too tired,
this is the perfect moment to stop and step outside. Even just sitting in the grass in your backyard will be a good start at helping your body reset and recharge! To learn more about the benefits of being outdoors read: