Let's Get Cooking with Mushrooms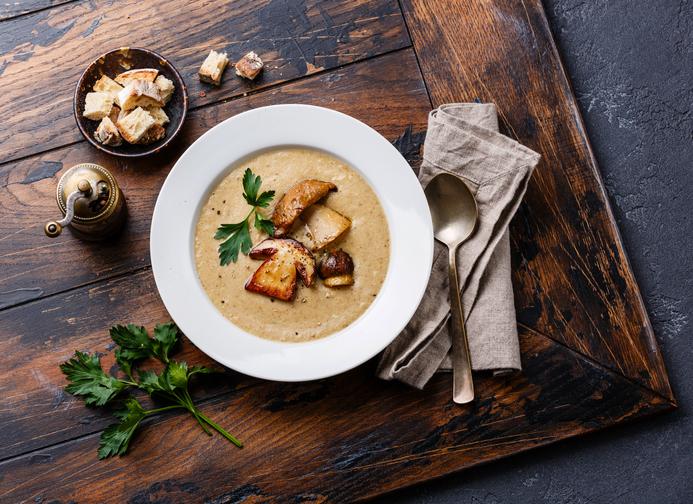 The holidays are here, and this means the entire team at AHCC Research is talking food and recipes. One of our favorite ingredients is, no surprise – mushrooms!
Mushrooms are a true super food, with wide ranging health benefits including supporting your immune system, supporting your athletic performance, antiviral effects, and in helping you manage your blood sugar and cholesterol levels.
In this post, we highlight the relationship between AHCC and mushrooms, feature some of our favorite holiday mushroom recipes, and look deeper into the health benefits of mushrooms.
In addition to eating healthy foods and maintaining an active lifestyle, supplements can give you the extra edge you need to support your body during times of stress, illness, or disease.
This is where AHCC comes in. AHCC is a nutritional supplement and a functional food. AHCC is not a species of mushroom but a unique compound extracted from the hybridization of several subspecies of mushrooms.
The first component of AHCC is shiitake mushrooms. These mushrooms have a rich history of healing powers.
The next ingredient is several hybrids from the Basidiomycotaphylum of fungi. AHCC uses the mycelia (the hair like root structures of the mushroom).
The mycelia are cultured in rice bran extract, which has antiviral and immune system enhancing qualities.
The end result of the carefully monitored manufacturing process is AHCC.
This manufacturing process is characterized by four innovations:
Identification of the specific mushroom subspecies that creates an extract with superior NK cell activating power.
The cell culturing of the mycelia to ensure each batch is genetically identical to the original mother super-mushroom.
The patented culturing process to improve absorption and clinical efficiency.
The confirmation of mushroom identity through DNA pattern testing.
This gives you the best possible benefits from mushrooms scientifically enhanced to give your immune system the support it needs to protect you during times of stress, illness, disease, and everyday living.
Cooking with Mushrooms During the Holidays
Let's talk about cooking and eating mushrooms! The versatility and variety of mushrooms make this ingredient one that is enjoyed by eaters of all ages. Rumor has it that even people who claim "not to like vegetables" will eat a grilled Portobello mushroom burger or a big bowl of soothing mushroom soup.
Here are some of our favorite mushroom recipes for the holidays. Please let us know on the AHCC Facebook community page how you're cooking with mushrooms this holiday season.
How to make mushroom wild stuffing – This is a great article that digs deep into how to make a delicious and tasty wild mushroom stuffing.
Stuffed mushrooms – Enjoy stuffed mushrooms as appetizers.
We hope these mushroom recipes add some delicious and healthy variety to your table.
Mushrooms and Your Health
AHCC works best when you're treating your body well. And this means eating a diet rich in healthful foods. So, let's dig into mushrooms and highlight some of their health benefits:
Shiitake mushrooms: these popular and meaty mushrooms contain eritadenine, this substance can encourage your body to absorb cholesterol and lower the amount of cholesterol in your bloodstream.
Cordyceps mushrooms: this Chinese fungus is used as a tonic and has restorative properties. Known for enhancing athletic performance, many active people drink cordyceps mushroom tea or coffee.
Enoki mushrooms: this versatile mushroom is easy-to-cook and has some anticancer and immune-enhancing effects. A perfect way to enhance the capabilities of AHCC in improving your immune system.
Maitake mushrooms: these Japanese mushrooms are typically available in speciality Japanese markets. Buy either fresh, dried, or extracts of maitake. This mushroom has antiviral effects and can help managed blood pressure and blood sugar levels.
Reishi mushrooms: reishi mushrooms are highly regarded for their health benefits and are best consumed in a beverage form. Many people buy ground reishi and use it to make tea – or alternatively, look for a commercially available mushroom drink that uses reishi as an ingredient.
Admittedly, the very best mushrooms for your health and immunity are the hardest to find. It's for this specific reason that supplements such as AHCC exist – to give you the best of mushrooms in the easiest and most supportive format.
Treat your body and palate right – take AHCC to support your immune system health and cook a wide variety of mushrooms this holiday season.