Clinician
Dr. Fred Pescatore – Clinician Books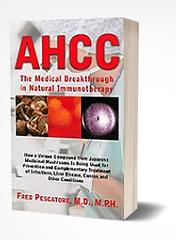 Along with the deep resources on the AHCC® Research Association website, there are a number of books written about AHCC® that are very useful. These books provide you with a more in-depth look and understanding of the science behind how AHCC® is effective in supporting immune system health. Learn more about the research behind AHCC® and how AHCC® is being used to treat infections, liver disease, cancer, and other conditions.
The Medical Breakthrough in Natural Immunotherapy
How a Unique Compound from Japanese Medicinal Mushrooms is Being Used for Prevention and Complementary Treatment of Infections, Liver Disease, Cancer and Other Conditions.
By Fred Pescatore, M.D., M.P.H.